6 July 2021
The streets of Brooklyn are a happy hunting ground for Envision Racing…can the team's drivers Robin Frijns and Nick Cassidy score more Stateside success for the team?
The ABB FIA Formula E World Championship first set its tyre treads on the famous streets of New York City in Season 4 back in 2017, and the 2021 championship sees a return to the United States and another double header of races as the championship fight really heats up.
Envision Racing's Robin Frijns will start the weekend 10 points behind round nine winner Edoardo Mortara who grabbed a shock championship lead following victory in Mexico at the Puebla E-Prix. Just 22 points separate the top 10 drivers in the driver's championship standings and the odds are everything will change by the time the dust settles in New York City.
There was no North American Formula E action in 2020 due to the massive rescheduling requirements following the Covid-19 pandemic, but if the last couple of races which brought the curtain down on the 2018-19 season are anything to go by, it should be a classic.
Envision Racing's Frijns ended his first season with the team in style, winning the championship finale with 20 minutes of the season remaining after a memorable move on Alexander Simms. The Dutch driver will be keen to repeat that and get back to winning ways in North America.
 "I have raced in New York twice, as sadly last year we couldn't go due to the pandemic," affirmed Frijns. "Last time I was there we won the race on the second day. I have always felt quite competitive, quite strong in New York. I like the track, I like the layout and I like the city as well, of course! So I am looking forward to it. 
"I feel more confident to go there than I was before Puebla, and let's hope that the qualifying goes better than it did in Mexico. Overtaking is possible in New York – it's not easy, but it is possible. Let's hope we can score some good points and hopefully we will still be in the championship title hunt after the weekend."
FAST FACTS: NEW YORK E-PRIX
LAST TIME OUT: New York City closed out the 2018/19 season with an exciting double-header. Jean-Eric Vergne sealed his second Formula E title as Sebastien Buemi and Robin Frijns shared the wins. For Frijns it was his second win in Envision Racing colours and he claimed it in some style with a measured and mature drive.
THE CIRCUIT: One of the most iconic locations in the Formula E world, the track is mapped out in the heart of Brooklyn's Red Hook neighbourhood and is centred on the Brooklyn Cruise Terminal site.
The views are great with the silver screen sprawl of Manhattan and the Statue of Liberty in view, but there will be little time for the drivers to take in the sights as they sit millimetres from the ground, battling wheel-to-wheel all weekend long.
FIRST TIME SUCCESS: Back in 2017 Envision Racing's Sam Bird took a clean sweep, winning both races, claiming a pole position and winning the first single-seater race to be held in New York City for good measure. Could the team bag a fourth or even a fifth victory in Brooklyn in 2021?
FLASHBACK: Virgin Group founder Richard Branson took to the streets on New York back in 2017…
ANOTHER PODIUM ON THE CARDS FOR CASSIDY?
Nick Cassidy and his Envision Racing team will be hoping for a more straightforward weekend of racing following their 48 hour rollercoaster in Mexico. The New Zealand driver's first race of the weekend ended on lap one with a heavy shunt into the wall requiring the team to pull an all-nighter to essentially rebuild his car.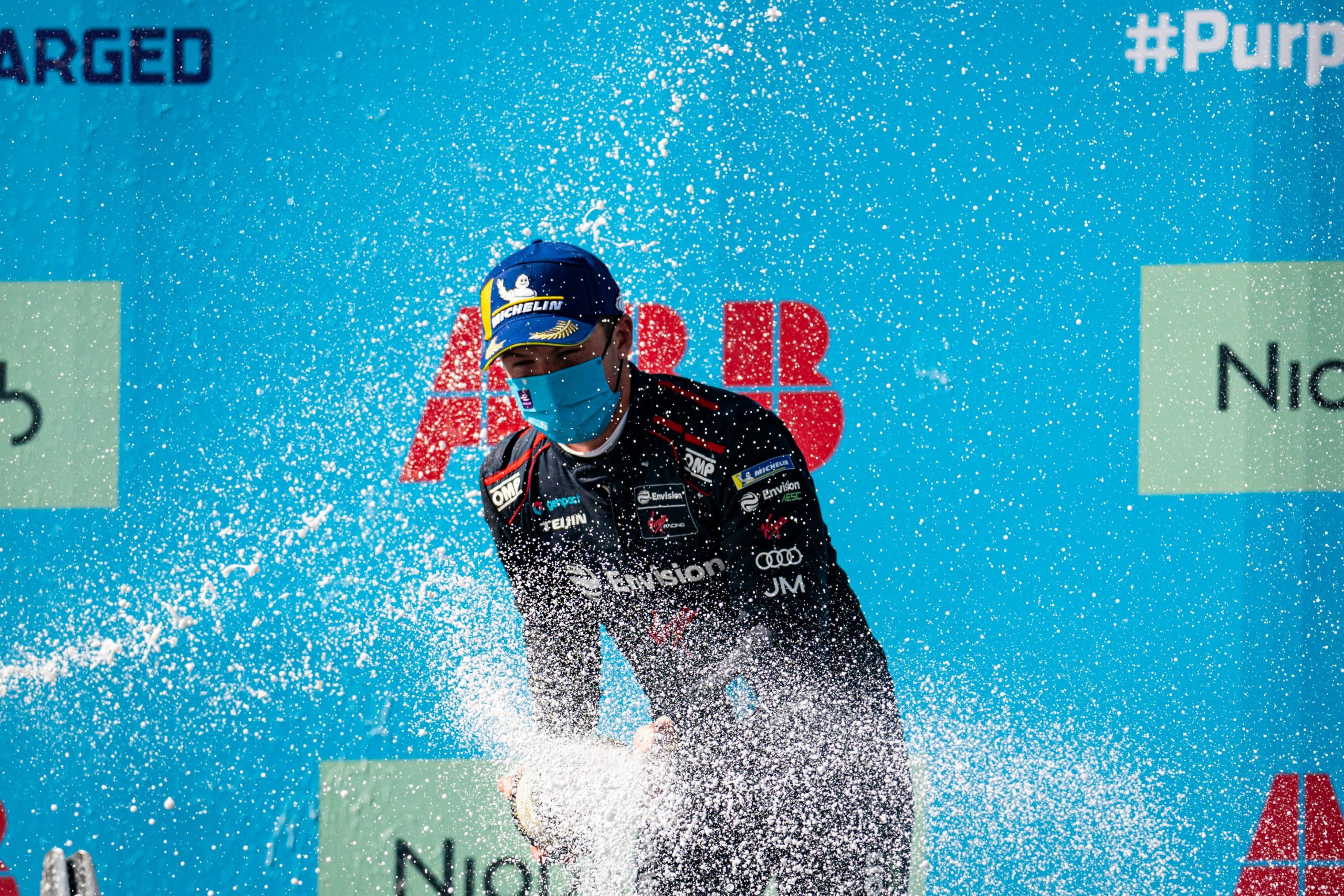 Cassidy duly rewarded his team's extraordinary efforts, qualifying 8th and finishing third on the road for a maiden podium result. Third became second after race winner Pascal Wehrlein was disqualified a couple of hours after the race, capping a truly remarkable weekend for Cassidy who experienced the crushing lows and dizzying heights of motorsport in a literal crash course.
"I feel I have been learning a lot each weekend during this season and getting stronger and stronger," said Cassidy. "I am quite happy with the speed I have shown this year. Mexico was a good step forward and it was great to have my first podium with the team and also for me in Formula E.
"It's a result that I am wanting to build on, though this is a very tough championship and that is not going to be easy to repeat, but I continue focussing on the process. I go to New York with an open mind, feeling good. Robin is very strong there so it's a great reference for me and hopefully we can score some more great points for the team."
Helping the team get those points, podiums, and hopefully, another win in North America is Envision Racing Managing Director & CTO Sylvain Filippi who has overseen three victories for the team in New York, meaning that thanks to current driver Frijns and former pilot Sam Bird, Envision Racing have won 50% of the races they have entered in New York City!
Filippi said: "We go to New York with a very positive mindset. We have done our preparation and our drivers are in good spirits. As a team we like the track – we have an amazing track record in New York, we love the city and have a lot of good memories, so we can't wait to be there.
"On the other hand, we know that qualifying will be difficult and can disrupt our race even before we start it. However, all the drivers in group 1 will be in a similar situation, so we are taking this into account in our strategy to work around it and try and obtain a strong result despite the additional challenges that this entails."
HOW TO WATCH
For full details and timings just head to here: https://www.fiaformulae.com/watch/ways-to-watch
You can do more than just watch – you can also play your part in helping the team by voting for Nick Cassidy and Robin Frijns on FanBoost here: https://fanboost.fiaformulae.com/