28 May 2021
Back in 1991, Homer Simpson laid out his design for the car of the future. So, did the Simpsons do it again and make another bang-on prediction? Not exactly. While all future car horns won't exclusively play "La Cucaracha", a few of his ideas aren't far off. 
From driverless trucks to flying cars, the future of mobility sounds futuristic, but the reality is that these developments are not far away! We're already seeing autonomous cars and huge advancements in electric vehicles; in fact, the automotive industry is experiencing the biggest shift in innovation it has ever seen. However… we're just getting started. 
With private transport being one of the biggest contributors to climate change, e-mobility is vital in decarbonising society, reducing emissions and meeting global climate targets. So, buckle up and let's unpack what the car of the future could look like…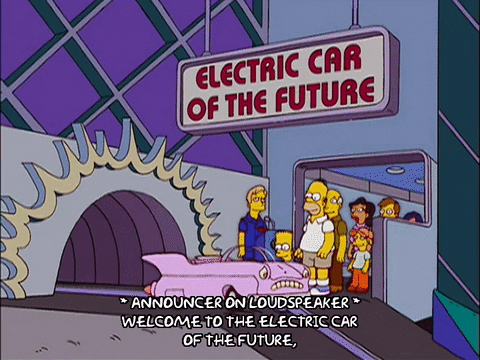 Electric 
It was only back in 1996 when General Motors released the EV1, which was the first mass-produced, purpose-built modern electric car from one of the industry's top players. Since then, electric cars have skyrocketed in terms of popularity and technology, and with the ban of the sale of new petrol and diesel cars in 2030, this is only going to increase. The rise of Formula E is helping to speed up innovations and as the technology gets more sophisticated, their popularity is soaring. This will be a staple for future cars and in the coming years we'll see hybrid or electric vehicles replacing traditional fossil fuel powered cars. 
Flying 
Is there anything more synonymous with the future than flying cars? We're thinking of Blade Runner, Futurama and Back To The Future. Earlier this year, Lilium (a German flying taxi start-up) unveiled a new, seven-seater electric aircraft that it says will be part of an inter-city flying taxi service in 2025. If this is a success, the trickle down to private vehicles will begin and we'll be seeing flying cars in the mainstream in no time. Maybe this isn't so far-fetched afterall! 
Autonomous 
The move to see self-driving cars on UK roads looks set for 2021. The technology may well improve road safety by reducing human error, which contributes to over 85% of accidents. In the next few years, we're predicting huge amounts of money will be spent on improving the software for driverless cars, and as this develops we'll soon see a fully autonomous car which can perform in an unlimited set of circumstances. As the tech develops, the price will drop and we're sure we'll be seeing roads full of driverless cars in the future. 
Intelligent 
We're already familiar with driverless vehicles but the opportunity for development in this area is huge. From cameras that track eye movement and blink rate to monitoring your heart rate, vehicles may soon be able to track your tiredness or stress levels. Not only this but our cars may soon know us well enough to make navigation decisions before we've even had a chance to think. 
Connected
Cars of the future will be more connected than ever. As electric cars become more mainstream, connected cars will help to enhance driver safety and user experience. Tech companies are already developing ways in which cars can communicate with one another and the outside world, including buildings and roads. From digital dashboard cockpits, window display systems and digital license plates, the car of the future will utilise technology in ways we've never seen. 
So what's the benefit? 
With emissions soaring, air pollution rocketing and our planet creaking at the seams, the car of the future will be vital in helping combat the effects of climate breakdown. As well as being kinder to the planet, future cars may also enable more free time and greater transport experiences. So, while the technicals may still be a little unknown, one thing is for sure, fossil fuel vehicles are on the out and the future is most certainly electric!