23 November 2019
– Both Sam Bird and Robin Frijns forced to retire from second race of season six
– Tale of two halves for the team following yesterday's superb race win
– Envision Virgin Racing come away from weekend in second place in the teams' standings
Envision Virgin Racing suffered heartbreak during today's second Formula E race in Diriyah, as both drivers were forced to retire, in stark contrast to the victory from Friday's season opener.
Briton Sam Bird – winner of yesterday's first round – was pushing hard in the first half of the race having made his way up to fourth from P7 on the grid. But shortly after he was caught up in an incident with Mitch Evans, with the two making contact and putting Bird into the wall, cruelly cutting short his race and a move the New Zealand driver was subsequently handed a drive-through penalty for.
Meanwhile, teammate Robin Frijns, 28, had climbed his way up five places and looked poised to continue moving further up the field, but lost grip going off-line and making contact with the wall.
After a strong first race in Diriyah the team and drivers leave the race weekend in a strong position, sitting second in the teams' championship, and will look forward to the next race in the New Year.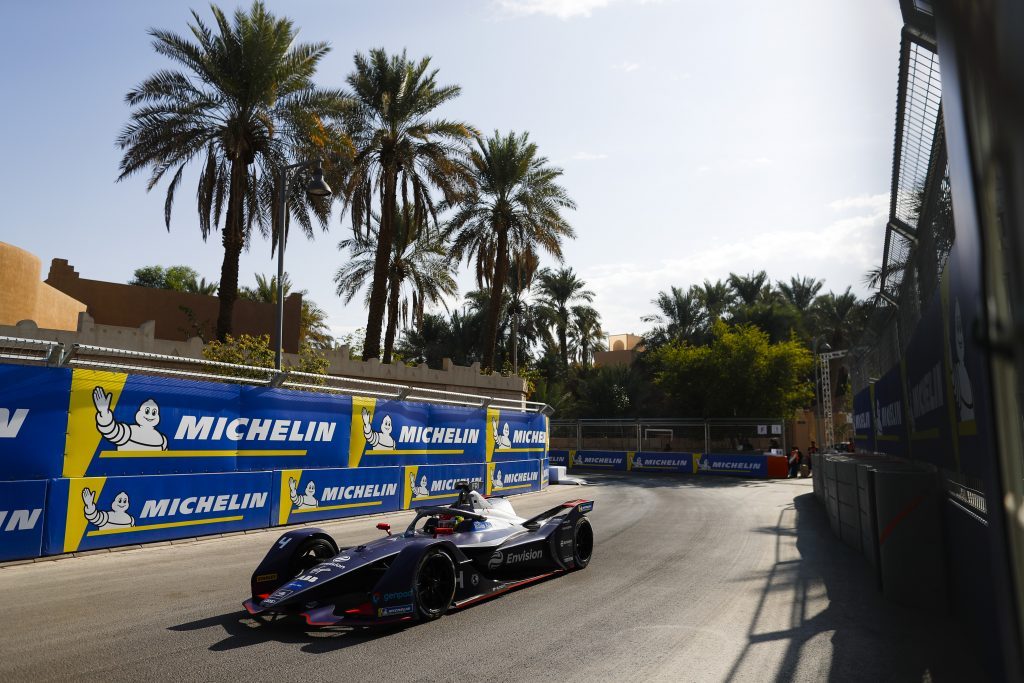 Sylvain Filippi, Envision Virgin Racing's Managing Director, said: "After such a strong day yesterday, a double DNF is a difficult pill to swallow. Sam's shown incredible pace throughout this weekend and it's such a shame that he was taken out of the race as he looked set to take a podium finish. Robin has shown his overtaking skills once again and simply lost the back on a notoriously dirty track off-line. The team is coming out of the weekend with a large points haul still, and we'll now be looking forward to round three."
Bird, 32, said: "After the high of yesterday, today was a serious blow – it really has been a tale of two halves. Mitch [Evans] has been penalised for the incident but it's still massively disappointing, I really believe we were denied another podium in today's race. Despite today, it's been a great weekend for the team, and I want to thank everyone for working so hard over the summer and getting us into such a strong position for the start of season six."
Robin Frijns added: "I'm bitterly disappointed by today, I was making great progress in the race – having made my way up into the points – but I ran onto the dirty line and just lost the rear end of the car. We've shown the pace is there this weekend and will now be looking forward to the next race."
The next Formula E race takes place in the New Year in Santiago Chile. Be sure to join us then!